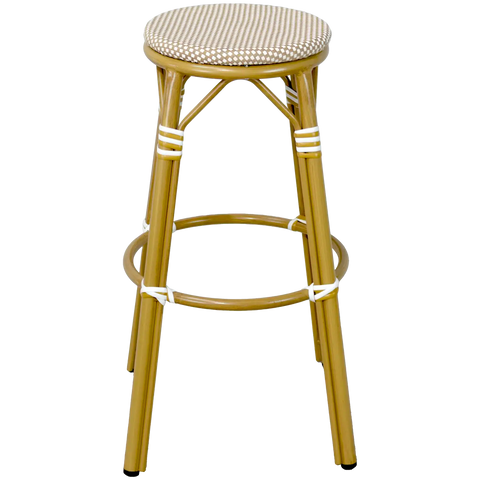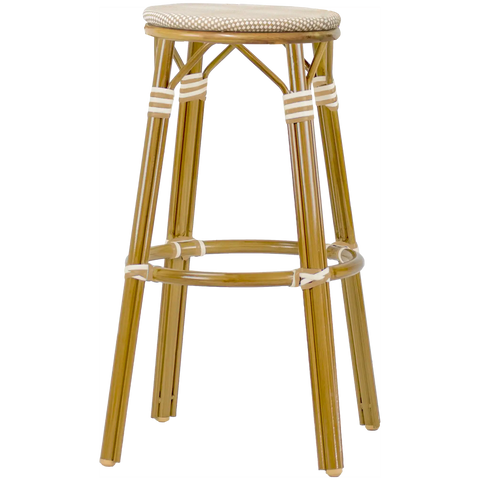 Josephine Bar Stool
Suitability: Indoor & Outdoor
Product Features
More information
Commercial Warranty: 12 months
Indicative price range (ex gst): $100 - $200
Lead time: Regularly Stocked Item (0-3 weeks, subject to availability)
Venue use:
Accommodation, Bar, Cafe, Cellar Door, Hotel, and Restaurant
Dimensions
Width:
Depth:
Seat Height: 750 mm
Total Height: 750 mm
Stackability
Show more
Josephine Bar Stool Description
Introducing the Josephine Bar Stool, a delightful piece inspired by the charming Parisian cafe furniture scene. Designed with both style and functionality in mind, this bar stool offers a delightful seating experience. Let's explore the features of the Josephine Bar Stool:

The Josephine Bar Stool features a UV-stable texteline seat, ensuring durability and resistance to fading even under prolonged sun exposure. This makes it perfect for both indoor and outdoor use, allowing you to enjoy the comfort and style of this stool in various settings.

Crafted with a cane-look lightweight aluminium frame, the Josephine Bar Stool exudes elegance and sophistication. The intricate design details of the frame add a touch of vintage charm, creating a Parisian cafe-inspired atmosphere in your space.

For your convenience, the Josephine Bar Stool is stackable up to six stools high, allowing for easy storage and efficient use of space. Maximise your storage capacity with the stackable design of this stool, ensureing practicality without compromising on style.

With its bar height, the Josephine Bar Stool is perfectly suited for elevated surfaces like dry bar areas and bar tables. Enjoy a comfortable seating experience while sipping cocktails or engaging in lively conversations at your favorite bar or entertainment area.

The Josephine Bar Stool embraces the classic Parisian cafe furniture aesthetic, capturing the essence of timeless elegance and charm. Its design effortlessly blends traditional elements with contemporary materials, making it a versatile addition to any decor style.

Elevate your hospitality experience with the Josephine Bar Stool, offering a harmonious combination of style, comfort, and practicality. Whether you're creating a welcoming atmosphere in a cafe, restaurant, or beer garden, this bar stool is the perfect choice. Embrace the allure of Parisian-inspired design and indulge in the beauty and sophistication of the Josephine Bar Stool.